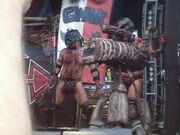 A Biledriver is a type of weapon used by the Scumdogs.
Appearance
Edit
The Biledriver is a type of cannon that, as its name suggests, fires bile, as well as other bodily fluids (usually blood).
Despite being a cannon, it has a very organic and fleshy appearance, like most Scumdog weapons, and usually includes organic features such as eyeballs and bones.
The weapon was first mentioned in the song of the same name.
The Biledriver is often used by slaves to fire red, green, or blue liquid into the crowd.
Ad blocker interference detected!
Wikia is a free-to-use site that makes money from advertising. We have a modified experience for viewers using ad blockers

Wikia is not accessible if you've made further modifications. Remove the custom ad blocker rule(s) and the page will load as expected.