Hans Orifice

Hans Orifice in 1986.

Position

Drums

First Appearance

Pre-Hell-O!

Origin

Affiliation

Actors
Hans Orifice, originally known as Hans Sphincter, was an early drummer for GWAR.
Not a lot is known about Hans, other than the fact that he was Stephen Sphincter's brother and was almost constantly urinating.
Behind the Scenes
Edit
Orifice was played by Jim Thomson, who left the band in '87, returned in '89 to help write Sick of You and knock out a small tour, then quit again.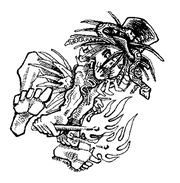 Ad blocker interference detected!
Wikia is a free-to-use site that makes money from advertising. We have a modified experience for viewers using ad blockers

Wikia is not accessible if you've made further modifications. Remove the custom ad blocker rule(s) and the page will load as expected.